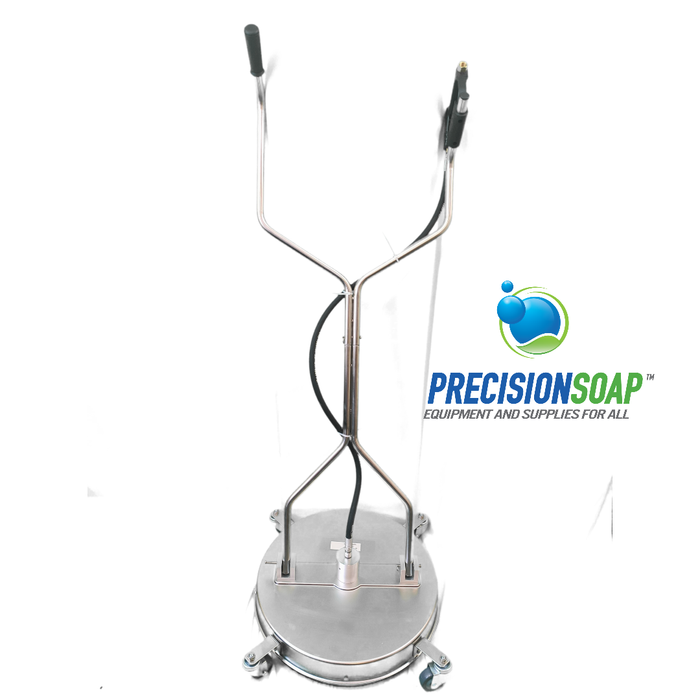 Twenty Inch Surface Spinner 20 inch
Surface Spinner Cleaner 20 inch
face Spinner
A surface cleaner for pressure washers is an attachment that you add to your pressure washer, where your wand should be. These pressure washer attachments generally come with a solid extension hose, as well as a wide brush – looking quite similar to our modern-day vacuum cleaner, but bigger.

Surface cleaners are generally used to clean wider surfaces – specifically, the floor. For this reason, some users call them pressure washer driveway attachments. This cleaning can be done with regular pressure washer wands as well – but since those wands focus only on one point, you may not be able to get all the coverage that you need. A surface cleaner will give you that coverage, and you will be able to finish your chores much faster.
Benefits of Power Washer Surface Cleaner.
There are several benefits that you might reap from using a pressure washer surface cleaner. The most important are the following:
1. When you try to clean a surface like brick and concrete with a regular nozzle, you cannot really cover a wide area – mostly because the water jets are all focused on a particular point. However, if you add a surface cleaner to the mix, you will broaden that cross-section of the area – allowing you to clean everything much faster. So if you have a surface cleaner, it can also mean that you have a concrete pressure washer.
2. When you clean the floor with a regular pressure washer nozzle, you are directing the jet of water towards a certain focused point. Once you start moving that jet around, there is a high chance that it will leave stripes or unevenly cleaned areas. A surface cleaner will not only cover a wider area, but its spinning action will also prevent any stripes from happening – allowing the results to be uniform.
3. When using a regular nozzle of a pressure washer on the floor, you may end up damaging or chipping the surface for various reasons: you may keep the nozzle too close or the single jet is too strong for the surface to handle.

Since a surface cleaner diffuses that jet into two different nozzles (or more), without affecting its cleaning power, there is a lower chance of damaging your floor. Therefore, if you plan on cleaning a wooden deck or any sensitive surface with a pressure washer, then you might want to use a surface cleaner, as a protective measure.